Overview
A bunion is a firm, painful bump that forms over a bony bulge at the base of the big toe. In most cases, the big toe joint also is enlarged and has degenerative arthritis. The toe also may be pushed toward the second toe (hallux valgus). Bunions tend to be inherited, but they also are common in the following groups. Women who wear high heels. People who wear shoes that are too narrow or too pointed. People with flatfeet. All of these situations force the big toe to drift toward the little toes, and this can cause bunions to form.
Causes
The causes of bunions are "multifactorial". In other words generally many things contribute to their occurence. Shoewear per se is a contributory factor but it isn't possible to say that the type of shoewear is necessairily relevant. Often there is a hereditary component with other family members also suffering with the same condition.
Symptoms
symptoms and problems caused by bunions include pain. You may then have difficulty walking due to pain. Inflammation and swelling at the base of the toe. This sometimes becomes infected. The foot may become so wide that it can be difficult to find wide enough shoes. You may get arthritis in the big toe. The second toe can become deformed. In severe cases, the big toe can push your second toe up out of place.
Diagnosis
Before examining your foot, the doctor will ask you about the types of shoes you wear and how often you wear them. He or she also will ask if anyone else in your family has had bunions or if you have had any previous injury to the foot. In most cases, your doctor can diagnose a bunion just by examining your foot. During this exam, you will be asked to move your big toe up and down to see if you can move it as much as you should be able to. The doctor also will look for signs of redness and swelling and ask if the area is painful. Your doctor may want to order X-rays of the foot to check for other causes of pain, to determine whether there is significant arthritis and to see if the bones are aligned properly.
Non Surgical Treatment
Sometimes observation of the bunion is all that?s needed. To reduce the chance of damage to the joint, periodic evaluation and x-rays by your surgeon are advised. In many other cases, however, some type of treatment is needed. Early treatments are aimed at easing the pain of bunions, but they won?t reverse the deformity itself. These include changes in shoewear. Wearing the right kind of shoes is very important. Choose shoes that have a wide toe box and forgo those with pointed toes or high heels which may aggravate the condition. Padding. Pads placed over the area of the bunion can help minimize pain. These can be obtained from your surgeon or purchased at a drug store. Activity modifications. Avoid activity that causes bunion pain, including standing for long periods of time. Medications. Oral nonsteroidal anti-inflammatory drugs (NSAIDs), such as ibuprofen, may be recommended to reduce pain and inflammation. Icing. Applying an ice pack several times a day helps reduce inflammation and pain. Injection therapy. Although rarely used in bunion treatment, injections of corticosteroids may be useful in treating the inflamed bursa (fluid-filled sac located around a joint) sometimes seen with bunions. Orthotic devices. In some cases, custom orthotic devices may be provided by the foot and ankle surgeon.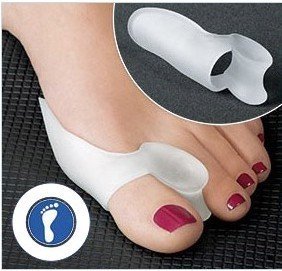 Surgical Treatment
The aim of surgery is to correct the cause of the bunion and prevent it growing back. Which type of surgery your podiatric surgeon recommends will depend on the severity of your bunion. Because there are risks and complications with any type of surgery, it?s not usually advised unless your bunions are causing pain, or if it is starting to deform your other toes.
tag : Bunions
| HOME |